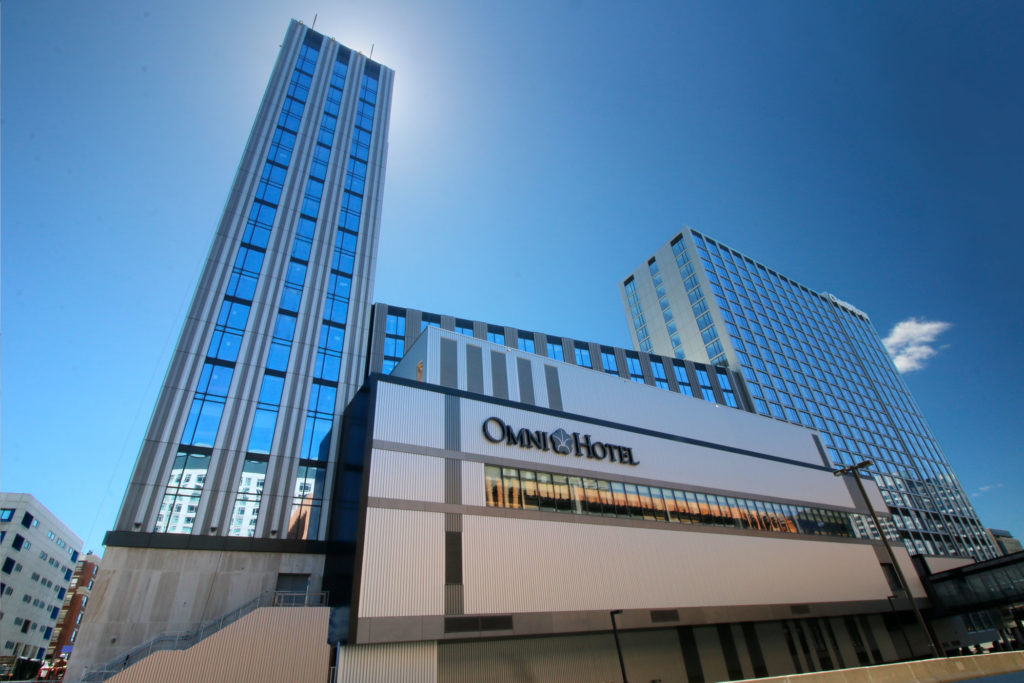 Nothing says luxury like an Oasis frameless shower enclosure made of pure glass. Oasis Shower doors is proud to have worked with John Moriarty & Associates & Janey Construction Management on the latest luxury hotel to join the Boston area, The Omni Boston Hotel at the Seaport. The Omni features 1,054 guest rooms, over 100,000 square feet of flexible meeting space, 35,000 square feet of restaurant space, 5,000 square feet of retail space, and 8,500 square feet of spa/fitness space. Located on Summer Street across from the Boston Convention and Exhibition Center, the Omni is the fourth-largest hotel in Boston and the largest in the Seaport District.
The over 800 Oasis custom enclosures featured heavy 3/8" bronze satin etched tempered safety glass and low-iron ultra-clear glass . General Glass International (GGI) was our fabrication partner in this project. Oasis brand shower doors acted as partition walls, separating the bathroom from the guest rooms. Typical units feature Oasis full-height water closet/shower combo enclosures which included custom double-sided etched partition walls separating water closet from shower area. Units are designed with custom finish brushed bronze towel bars and custom finished polished copper towel bars. Sliding doors featured Bohle surface mounted sliding glass system with soft-close technology. Specialty Units included ADA showers with rolling floor-to-ceiling glass panels. Luxury suites featured custom designed enclosures with grey tinted glass fixed panels. See picture gallery below.
The Omni has been nominated for a 2021 Prism Award for its unique use of glass in its construction. The Omni showcases innovative guest rooms featuring warm minimalist designs with an elegant functionality with breathtaking views of Boston Harbor and the greater Seaport District. Many thanks to all those involved in the creation of this stunning addition to the Boston skyline.
Project: The Omni Boston Hotel at the Seaport
Location: 450 Summer Street, Boston MA 02210
Units: 1,054 guest rooms, 52 suites
Builder: John Moriarty & Associates, Janey Construction Management
Architect: Elkus Manfredi Architects, Moody Nolan, Stull and Lee, Inc.
Int.Design: Waldrop + Nichols Studio
Description: Omni Boston Hotel at the Seaport is located in the center of the bustling Seaport District, near the Boston Convention and Exhibition Center. The property boasts 100,000 square feet of flexible function space.
Features: The hotel offers an array of amenities, including seven distinct dining experiences, a scenic rooftop pool and chic Breve Spa.
Value: $550,000,000
Size: 22 stories, 788,500 sq feet