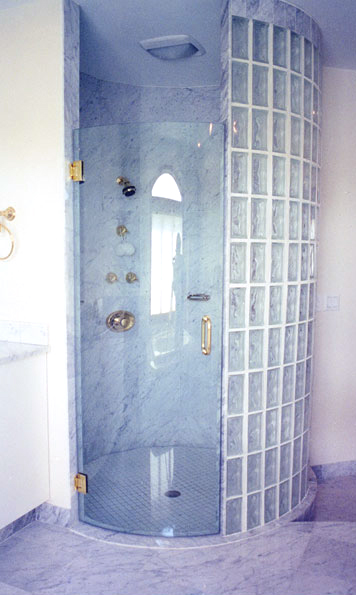 Oasis Shower Doors, New England's largest designer, fabricator and installer of custom frameless glass shower enclosures and specialty glass, is rapidly expanding its operations in and around the Boston area. Oasis Shower Doors is the exclusive designer, fabricator and installer of the full line of Oasis frameless shower doors, semi-frameless shower enclosures, frameless tub sliders and plated-over-brass framed shower enclosures. The Oasis line of bath & shower enclosures is unsurpassed in quality, craftsmanship and design. Oasis Specialty Glass offers a wide array of interior glass entry systems and storefronts, sliding and fixed glass partition walls, back-painted glass for backslashes and accent walls, and switchable privacy glass for bedrooms, offices and conference rooms.
Our Massachusetts showrooms are located at Feeding Hills, Weymouth, and Peabody MA, minutes from the Springfield and Boston areas. These fabrication and showroom facilities serve all of Massachusetts, Southern Maine, New Hampshire and Vermont, as well as Rhode Island and the Cape. In addition, our Connecticut showroom is located in Avon CT, serving all of northern Connecticut.
Our one of kind, state of the art showrooms are newly renovated with the latest in specialty glass and shower enclosures, displaying dozens of configurations, a vast glass selection and endless hardware options.
Our projects include both residential homes and large commercial developments. Our clientele includes the home-owning public, architects, interior designers, builders, remodelers and developers, with a special focus on the hospitality industry.