How We Work:


Shower Door Installation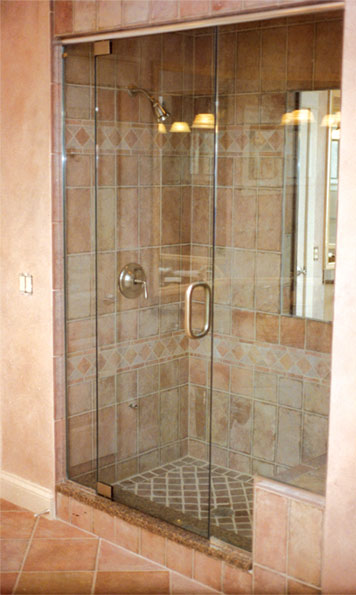 Elegant, versatile, stylish and sleek, the Oasis frameless shower door offers unlimited design flexibility. Often referred to as a seamless shower door, our frameless shower doors offer the seamless look of pure glass.
We customize to your exact needs. Whether you want 1/2″ frameless glass or a semi-frameless with 1/4″ glass, multi-angle frameless enclosures or precision frameless sliding doors, we have the design that will fit your needs exactly. With a wide range of glass types to choose from, the highest quality hardware available, and our expert installation, there is no limit to your shower design possibilities.
We stand by our expert installation. Frameless glass shower installation is a fine art with extremely small tolerances being critical to obtaining a leakproof glass shower enclosure without gummy caulks or ugly gaskets. To get it perfect, installation needs to be exact. Our shower door installers pride themselves on being the best in the business. But don't just take our word for it. Review the gallery of glass shower doors on our site to see for yourself the endless possibilities our premier line of frameless shower enclosures can offer.
We can deliver on any project. With showrooms in Feeding Hills, MA,  Weymouth, Massachusetts, and Avon, Connecticut, we now serve greater New England and northern Connecticut. Our facilities also feature a fully-equipped, in-house fabricating shop and vast inventory, allowing us to quickly and expertly meet any project's specifications no matter how big or how small. Whether you're building a new home or remodeling your current one, or building a multi-unit complex, let us add the finishing touch to your bathroom design that will last a lifetime: A custom frameless shower door from New England's best. Come visit us at Oasis Shower Doors and start showering yourself with elegance today.