In a year that many of us don't want to remember, give your loved one the escape they are wishing for…Their own private Oasis – an everyday escape from the stresses of life.
Frameless Shower Enclosures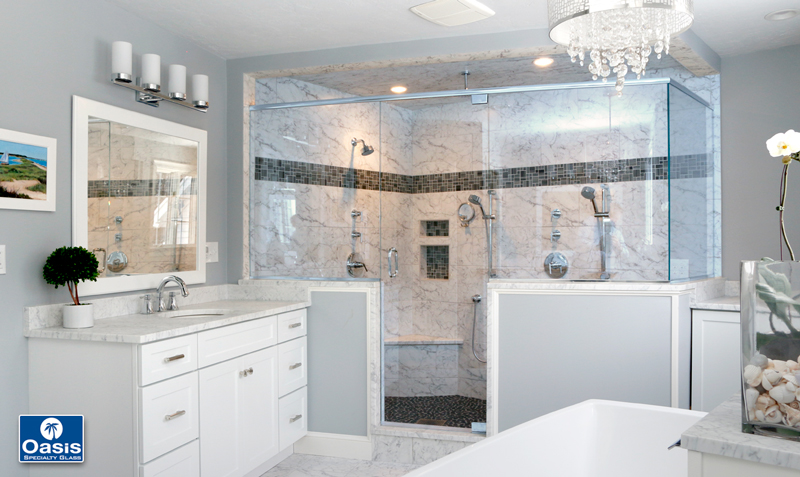 During these trying times many of us have come to realize that our homes are our sanctuaries from the tumultuous world outside. Its' time to upgrade your home with the elegance of specialty glass from Oasis. Clean, stylish and sleek, nothing is better than the look of pure glass. Whether it be a new frameless shower door, tub slider, or steam enclosure, we have the perfect solution for your home. Custom built to fit any space, these easy-to-clean, high-quality shower doors will increase your home's value and last for many years to come. Plus we've made estimating the cost of your new shower easy with our online estimator tool. Get yours today!
Glass Backsplashes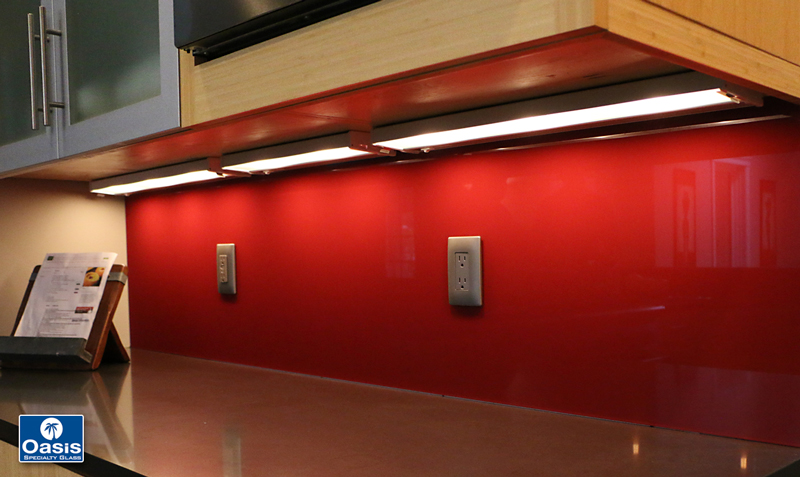 Oasis also offers back-painted specialty glass that is perfect for any kitchen or bathroom backsplash. Add a splash of color to your walls while protecting them with easy-to- clean, 3/8″ thick, low-iron, tempered safety glass. Custom cut to fit your counter space exactly, this product gives you the clean bright look that designers crave and the impact resistant strength that will last for years. Checkout samples here and get started on your project with a free quick estimate.
Oasis Glass Railings & Banisters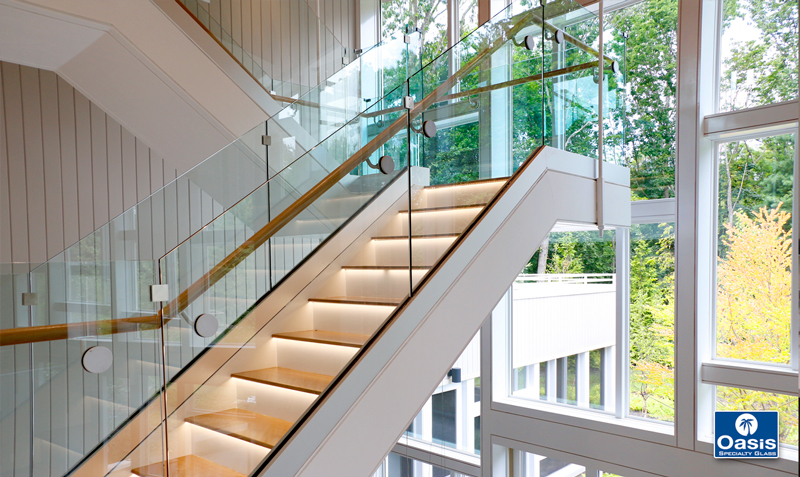 Last but not least, consider a glass railing or banister system to update your home to the clean, contemporary look of pure glass. Designed with heavy 1/2″ or 3/8″ tempered safety glass, Oasis rail systems are designed for both safety and longevity. Unlike wooden railings, glass railings require little maintenance and are easy to clean. These systems incorporate tempered safety glass that is safe, durable, and will outlast wood when exposed to extreme conditions. Oasis glass railings will open up your living space allowing more visibility and light to radiate throughout your home or deck, so you can better enjoy the view. Oasis offers four basic railing styles that can be custom configured to fit any space. If you don't see what you are looking for, just ask. We have access to a wide array of other options as well. See more samples here and get your free estimate today!
Give the gift that will be enjoyed every day and will last a lifetime!
Call Today at 800-876-8420