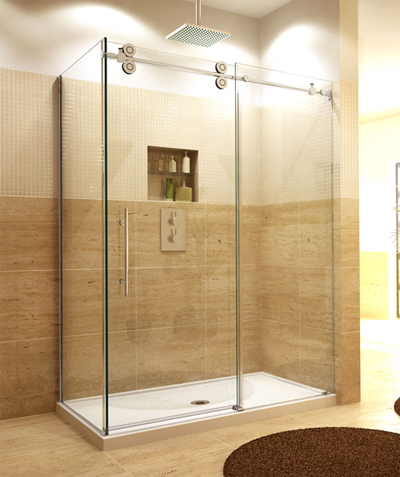 Oasis Shower Doors invites builders and homeowners to the Original Western Mass. Home Show at the Big E in the Better Living Center (Young Building) Mar 22 – Mar 25, 2012. Come visit us at booth# 329! After a great showing in the CT Home Show, Oasis is coming to the Big E! Oasis fabrication and installation experts will be on hand to introduce a wide variety of glass products, including their trademark frameless shower doors, cast glass, Dreamwall Color Glass and the newest technology, GGI's digital, direct-to-glass printing. That's right, using high-resolution printing technology, any image you imagine can now be printed permanently, accurately and cost-effectively on glass.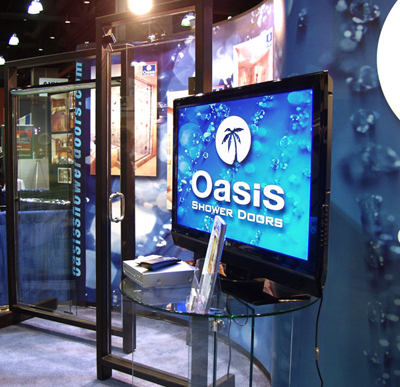 Oasis Shower Doors offers the largest selection of frameless glass shower enclosures designed to meet any conceivable design configuration. Everything from a simple door to a multi-angled custom install can be executed with flawless precision thanks to their expert installation team. Designed for long-term care-free use, Oasis Shower Doors are fabricated with the highest quality components and workmanship in the industry. Discover the endless possibilities Oasis Shower Doors can achieve and make your next shower the center piece of any bathroom design or remodel.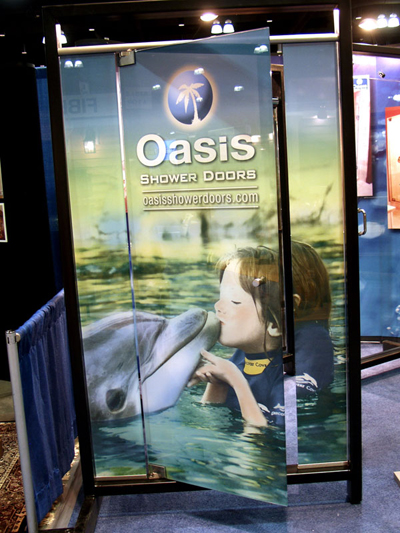 Dream big. Design big.
Oasis is proud to feature some of the most exciting developments in the glass industry with it's newest printed Glass display. Take a step through the Looking Glass with Alice®, GGI's digital, direct-to-glass printer. Using Alice's high-resolution printing technology, any image can be printed cost-effectively on glass. Whether it's an illustration, pattern, photo or text, Alice can print any image precisely and permanently on glass for either interior or exterior designs. Alice prints in thousands of colors and an infinite number of opacities on virtually any type glass. So, brighten up a partition with bold colors, or soften the sunlight with etching on a window. From fine art to fancy logos, Alice brings glass to life, and inspiration to design. The possibilities are as endless as your imagination.
Partitions and Architectural Elements
Oasis glass is an ideal wall or partition solution for commercial and residential spaces. With the ability to cast the glass with any image, or imprint a visual on the glass, Oasis glass partitions have limitless applications. Available in any of our popular glass finishes from Frosted to ultra-clear low-iron,  these glass walls are ideal for commercial, institutional, and residential spaces. Whether you require annealed, tempered, custom-cut, or laminated options for your projects, this product is great for back splashes, partition walls, and full wall treatments.
Cast Glass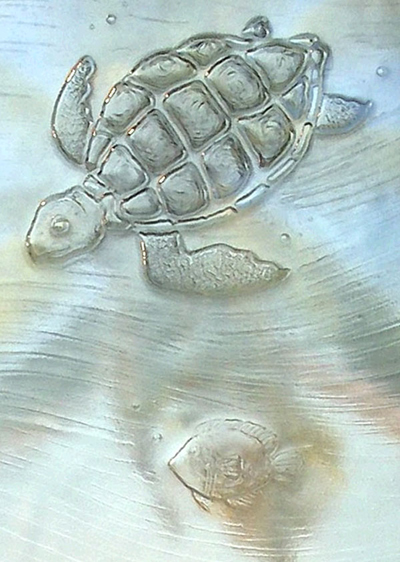 Oasis Shower Doors also offers a line of ultra premium art glass shower enclosures. Cast in 3/8-1/2" glass in a variety of standard and custom patterns, this unique glass option provides a beautifully stunning alternative to more common glass, for showers, partitions or architectural ornamentation. Oasis offers many stock patterns, but the custom options are limitless. Supply a drawing of your own design or offer your ideas and have our artists design a custom pattern for you. Now you can create a custom shower that reflects your interests or architectural style. Wether you are incorporating a hotel logo or a custom pattern the design possibilities are unlimited.
Don't Miss the Show!
Mar 22, 2012 – Mar 25, 2012
The "Original" Western Mass. Home Show
Oasis Shower Doors – Booth 329
Unique Closets – Booth 331
Better Living Center, Young Building, Outdoor Area
Event Details:
Hours: Thursday 2-9pm; Friday 1-9pm; Saturday 10am-9pm; Sunday 10am-5pm
Admission: $10; Children 12 & under are free; Seniors:$9
Click here for discount!
Location:
Eastern States Exposition Grounds
1305 Memorial Avenue
West Springfield, MA 01089
One of the largest home & garden shows in the Northeast. Contains products and services for the home & garden.
www.westernmasshomeshow.com
www.hbrawm.com
Contact Information:
Brad Campbell
The Home Builders Association of W. Mass.
240 Cadwell Drive
Springfield MA 01104
413.733.3126