Oasis Shower Doors volunteered it's expertise at the Extreme Home Makeover in Springfield, MA, this past month. It was marathon install of 5 and a half baths, which included 4 shower enclosures and assorted bath hardware. Tom Daly, owner of all three Oasis Shower Doors in Massachusetts and Connecticut, stated that it was a great night working on the project and gave a special thanks to his team for their professionalism and dedication to this worthy cause. "We could not have done it without Rachel and Mike Douglass, Frank Cavallo, Erica Schlosser, and Rick Devine. Great team work was shown by all," said Tom.
Oasis Shower Doors has volunteered for Extreme Makeover projects in the past and are always happy to participate. "It's a great way to give back to the community and give our workers and installers the recognition they deserve. They are a fantastic group of people and I'm very proud of the work that they do."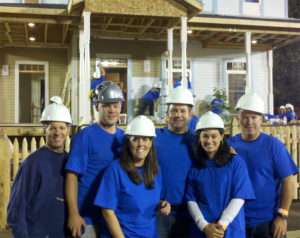 Watch for future announcements as to when the Springfield Home Makeover will be aired. The Emmy award winning reality program "Extreme Makeover: Home Edition," now entering its 9th season, is produced by Endemol USA, a division of Endemol Holding. It's executive-produced by Brady Connell and George Verschoor. David Goldberg is Chairman, Endemol North America. The show airs Sundays from 8:00-9:00 p.m., ET on ABC.