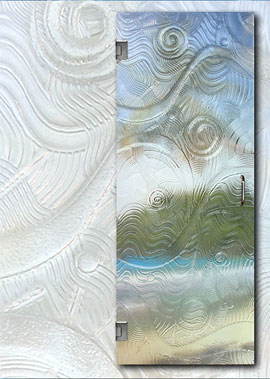 Oasis Shower Doors introduced our new line of ultra premium cast glass shower enclosures. The three dimensional character of cast glass provides a beautifully stunning alternative to our premium Oasis product line. Oasis Shower Doors now offers one more way to make your shower enclosure the centerpiece of any bathroom.
There are many stock patterns from which to choose or you can create your own unique design, there is no limit to the design opportunities. Give us a drawing of your own design or have our artists design a custom pattern for you. Your shower enclosure can now reflect your hobby, family, favorite part of the world, the possibilities are limited only by your imagination. Looking to buy premium shower enclosures for a hotel or spa? Now you can embed their logo in each door. These enclosures are custom fabricated using 3/8″ or 1/2″ thick glass. The glass is fabricated to accommodate heavy glass hardware, i.e. hinges, clips, pulls and towel bars. Now you can truly enjoy the fabrication of your imagination!
Oasis Shower Doors, manufacturer and installers of their signature line of Oasis shower enclosures, will be showing their newest glass products available at trade shows across New England. Oasis Shower Doors's enclosure fabrication and installation experts will be on hand to introduce builders and homeowners to their premium enclosure product line – Oasis. Elegant, versatile, stylish and sleek, the Oasis line offers unlimited design flexibility.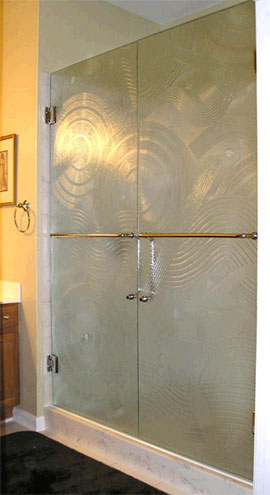 To help builders understand what these shower enclosures are all about, there will be several full size samples available for a hands-on experience. Built from tempered glass and fitted with the latest in pressure hinge technology, the enclosures feature quality, longevity, and most importantly, marketability.
Oasis Shower Doors was first founded by Art Jacobson and Tom Daly. Its mission – to create quality shower enclosures that are both elegant and built to last. It is this combination of both beauty and quality that has made Oasis Shower Doors Award winning designs the most popular in New England.
If marketability is what makes Oasis the developers' choice, it is customization that speaks to the architects and building designers. Because of Oasis Shower Doors' ability to customize to their clients exact needs, there is no limit to the design possibilities. It's this flexibility that allows architects to think outside the "box" of conventional enclosures and create dynamic configurations of multiple angles and shapes and at the same time, to maintain a leakproof and maintenance free design that buyers crave.
According to Oasis installation expert Steve Castelli, "We've worked with builders and architects on a variety of projects from simple enclosure upgrades to multi-million dollar custom remodels, plus we can handle multi-unit developments as well. In the end, it's always the shower design that leaves the client wowed."
Oasis Shower Doors invites homeowners, builders, contractors, and architects to visit one of the many trade shows they will be attending across New England this year. See you there!