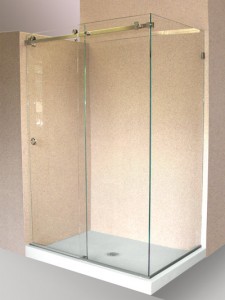 The Latest Innovation in Sliding Shower Door Design
Oasis Shower Doors is excited to introduce our latest sliding door technology to consumers and builders across New England. In the tradition of pursuing the most functional, elegant and durable shower door solutions available today, we are proud to offer the Lucente frameless by-pass shower door.
Our new Lucente Series door has an entirely different look from traditional sliding shower door systems. The Lucente combines industrial functionality with a minimal visual profile, to create a look and feel that is both elegant and beautiful. The precision hardware delivers an ultra-smooth gliding action unequalled by traditional by-pass doors and without the oversized hardware traditionally used for this type of slider. The Lucente offers the best of both worlds – the exposed hardware look preferred by today's interior designers with the added elegance and esthetics of a low profile and minimalistic design.
Low Profile Header
The low profile header bar (just 1.125 inches high) can handle a door width of up to 30 inches of 3/8 or 1/2 inch glass. The slider works in conjunction with a fixed panel for added strength and support. Doors stops are completely adjustable to accommodate any situation. It can be used for both bath and shower enclosures, with or without a glass return panel.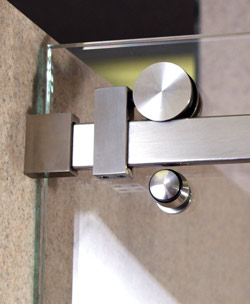 The use of minimal hardware provides a frameless look that gives the enclosure an almost floating appearance. Specially designed roller bearings allow for super quiet, easy opening and closing of the door. This unique roller system operates above the header support bar that spans the top of the enclosure. Easy to clean, virtually maintenance free, this system offers years of trouble free use in addition to being the centerpiece to any bathroom. When choosing your next shower door, think Lucente By-pass Doors from Oasis, because perfection is just an installation away.
Complete the form below to get a free estimate on a Lucente sliding door: