Thousands will help with home
By Jim Kinney, Business writer
Springfield – Take 75 framing carpenters, 60 wall board hangers, 30 electricians, 25 plumbers, assorted crane operators, cooks, security guards, and add thousands of volunteers with no particular skill at all and you have the beginnings of what contractor Nicholas J. Riley needs to make the upcoming Extreme Makeover: Home Edition project happen next month.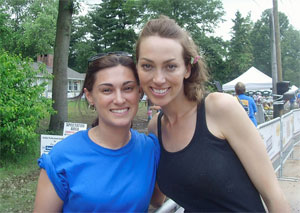 The concept behind the popular ABC television show is simple: pick a needy family with a television-friendly backstory and mobilize the volunteers including a lead contractor like Riley, to take down that family home and rebuild it inside a week.
'Door Knock Day" – the day on-air talent surprises the winning family and sends them on a vacation while their home is rebuilt- is September 11, the 10th anniversary of the terrorist attacks will be commemorated at the site, but any commemoration won't be taped for the show because it won't air for months.
A pep rally for the build is set for Tuesday from 5 to 8 p.m. at Springfield College. The show was last in the region a little more than two years ago, when the Hill family from Suffield, Conn., had their home rebuilt by the "Extreme Makeover" crew and a few thousand area volunteers.
Anyone interested in volunteering or donating money or materials is asked to go to www.joinextreme.com/mass.
Riley said he's about halfway there in terms of recruiting skilled builders and tradespeople, but he could always use more.
It's a compartmentalized job site, he said. He said the only way to maintain quality is to put a contractor he knows and trusts in charge of a specific area. Unskilled volunteers will fetch and carry, lift and hold, sweep and generally make themselves useful in ways that can't do much in the way of damage if a mistake is made, Riley said.
"We'll need a lot of people just to keep the neighborhood clean," Riley said last week in a meeting with the editorial staff at The Republican.
Riley said project managers from the show have been in town for weeks working out of his offices.
Oasis Shower Doors of Agawam was part of the Hall family project, installing closets in the nearly-completed home.
Employee Rachel R. Douglass said the closet crew was at the family home for an entire day. Even so, she couldn't wait to volunteer for the Springfield project. This time, her company is building a custom shower stall.
"Installing it is going to be nuts," Douglass said, "We are happy to give back to the community, it's a way to say thank you to the community that keeps all these small businesses going."
Riley said the show itself brings only drywall through promotional deals with manufacturer USG Corp., also also known as United States Gypsum Co. and appliances through Sears.
Diane Dansereau, owner of Hampshire Glass in Holyoke, volunteered to do mirrors for the project. She'll also be on hand to repair any insulated glass windows that get broken during installation. The tricky part is, she doesn't know when the bathrooms will be ready for her. "The call might come at 2 in the afternoon, it might come at 2 in the morning," she said.
Jim Kinney can be reached at jkinney@repub.com
Excerpted from the The Republican, August 28, 2011