Join us at the CT  Convention Center—Connecticut's largest and longest running Home and Remodeling Show, the Home Builders & Remodelers Association of Central Connecticut offers residents of Connecticut and western Massachusetts a one-stop shopping experience for home products and services! Come and experience the beauty and elegance of our frameless shower doors on display and enjoy big savings with your VIP Discount!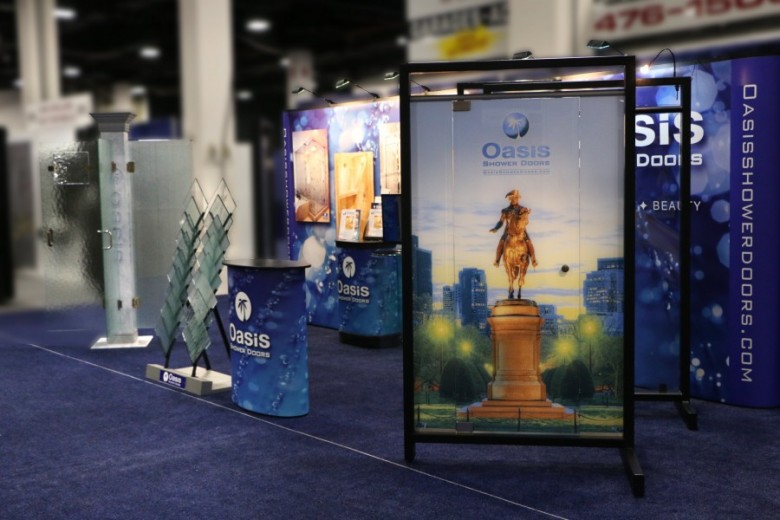 Join us February 27-March 1, at the Connecticut Convention Center, Booth 1038.
Oasis Shower Doors will be there exhibiting our award-winning shower doors and frameless shower enclosures featuring water and stain repellent coated glass.  Oasis fabrication and installation experts will be on hand to explain the benefits of remodeling your bathroom with our award-winning designs. Whether it is the newest, sliding door technology or sleekest industrial designed hardware or the latest in glass treatments and styles, Oasis has something to fit every design need and satisfy a wide variety of tastes. With hundreds of design options to choose from and an unlimited number of configurations available, you are sure to find the perfect solution for your dream bathroom.
Be sure to ask about our newest sliding shower door options:  The Lucente, which features an elegant, industrial look with a low profile header, and the Essence Series, which features super-smooth glide wheels hidden in the bottom clip hardware, allowing for a headerless design.
Learn about all this and more at the CT Home & Remodeling Show with Oasis experts on hand to answer your remodeling questions.
Architectural Glass
Glass is fast becoming the elegant solution for todays contemporary home designs. Oasis is on the leading edge of this trend with a wide variety of glass applications beyond just shower doors. We design, fabricate and install in-ceiling glass partition walls, glass room dividers, railings and staircases. We also fabricate and install a complete line of back-painted glass wall coverings, perfect for kitchen backsplashes, office dividers, and bathroom walls.
Create Any Image on Glass with Alice® Imprinting Technology
Oasis can now print any image cost-effectively on glass with Alice®, GGI's digital, direct-to-glass printer. This high-resolution printing technology can print any image precisely and permanently on glass for either interior or exterior designs. Whether it's an illustration, pattern, photo or text, Oasis can print it in thousands of colors and an infinite number of opacities on virtually any type of glass.  Now you can brighten up a partition or shower with bold colors, or soften the sunlight with etching on a window. From fine art to fancy logos, Oasis brings glass to life, and inspiration to design. The possibilities are as endless as your imagination.
Make your shower the centerpiece of your bathroom with an Oasis Shower Enclosure!
Location:
Booth 1038
Connecticut Convention Center
100 Columbus Boulevard
Hartford, CT
Dates & Hours:
February 27 – March 1, 2015
Friday, 3pm-8pm
Saturday, 10am-8pm
Sunday, 10am-5pm
Admission:
General Admission: $12.00 (For VIP savings use Promo Code: Save25!)
Senior Admission: $9.00
Children 16 and Under: Free