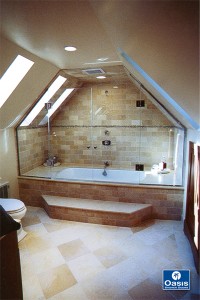 Oasis Shower Doors invites builders and homeowners to the 60th Annual New England Home Show at the Seaport World Trade Center, February 25-28, 2010. Oasis fabrication and installation experts will be on hand to introduce attendees to a wide variety of glass products, including their trademark frameless shower doors, cast glass, and Dreamwall Color Glass. Now operating under their new brand, Oasis Shower Doors is New England's number one frameless shower door company. Below is a sample of what will be on display:
Frameless Shower Doors
Oasis Shower Doors offers the largest selection of frameless glass shower enclosures designed to meet any conceivable design configuration. Everything from a simple door to a multi-angled custom install can be executed with flawless precision thanks to their expert installation team. Designed for long-term care-free use, Oasis Shower Doors are fabricated with the highest quality components and workmanship in the industry. Discover the endless possibilities Oasis Shower Doors can achieve and make your next shower the center piece of any bathroom design or remodel.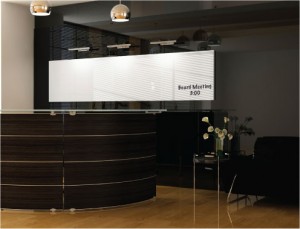 DreamWalls
Dreamwalls Color Glass is an ideal solution for commercial and residential spaces. A back-painted glass using ultra-clear, low-iron glass, ensures the color you specify is the color you see. A proprietary, state-of-the-art paint technology is used to manufacture and fabricate Dreamwalls Color Glass in limitless color options using a durable heat-cured, two coat system. Size capabilities ranging from 4″ x 4″ to 96″ x 144″ are possible, with reproducible color consistency from the first piece to the last piece.
Ideal for commercial, institutional, and residential spaces, Dreamwalls Color Glass can contribute towards LEED credits. Color options, color clarity, and extreme durability make Dreamwalls Color Glass the leader in back-painted glass for projects large and small; whether you require annealed, tempered, custom-cut, or laminated options for your projects. Great for back splashes, partition walls, and full wall treatments.
Oasis Shower Doors would like to introduce you to our new line of ultra premium art glass shower enclosures. Cast in 3/8-1/2" glass in a variety of standard and custom patterns, this unique glass option provides a beautifully stunning alternative to the premium heavy glass units more commonly available.
Oasis offers many stock patterns from which to choose, but there is no limit to the design opportunities. Supply a drawing of your own design or offer your ideas and have our artists design a custom pattern for you. Now you can create a custom shower that reflects your interests. If you are designing for a hotel or resort, you can now have your logo incorporated into your shower doors and glass partition walls.
Don't Miss the Show!
60th Annual New England Home Show
Seaport World Trade Center
200 Seaport Boulevard, Boston
Largest and Longest running home show in New England!
Free Wi-Fi
Visit Booth 534
February 25-28, 2010
Thursday, February 25, 12pm – 9pm
Friday,   February 26,   12pm – 9pm
Saturday, February 27, 10am – 9pm
Sunday,   February 28, 10am – 6pm